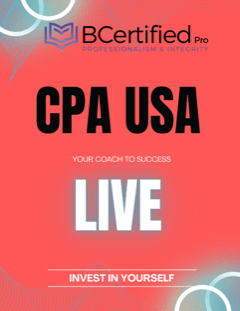 CPA – Live Training – Business Environment & Concepts
$699.00
-
Pass your CPA before 2024 Exam changes.
Efficient time management for Working Professionals, 30 days of full support and dedication
Benefit from efficient time management for comprehensive Learning and Exam preparation.
We have set the milestones and all we need from you is your trust and commitment. One month of your time … just once … for a lifetime certification, for the most prestigious professional certification CPA.
Live courses will not just put you on the right track but will also provide you with in-depth knowledge and hints to succeed in the most challenging topics. Learn while solving Task-based simulations and experience an innovative practical study program.
Fasten your seat belts and welcome on board for the most enjoyable and successful study journey!
The Certified Public Accountant (CPA) certification is a highly respected professional credential that brings numerous benefits to those who obtain it. Individuals who have a strong background in accounting or finance, and who are interested in advancing their careers in these fields, should consider obtaining the CPA certification. The CPA is particularly relevant for those who work in the accounting, finance, and auditing industries, as it is often a requirement for many senior-level positions in these fields. The value of the CPA certification lies in its recognition as a standard of excellence in the accounting profession, which can lead to increased job opportunities, higher salaries, and greater credibility and trust with clients and colleagues. According to industry data, CPAs earn significantly higher salaries compared to non-CPAs, making the investment in obtaining the CPA certification well worth it for those who want to maximize their earning potential.