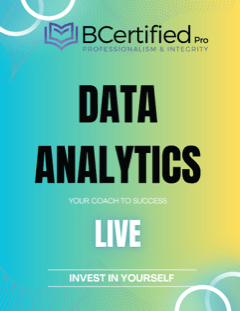 Data Analytics Using Excel – October 13 Live Virtual
$630.00
-
Designed for every professional who is interested in advancing their career, gaining new skills, and being able to finish the task on hand in less time and in a more professional manner.
10 Hours of Live training with a field expert
Practicing with a real case study.
Certificate of completion – 10 CPEs
Data Analytics
Power Query
Dynamic Arrays
Artificial Intelligence (AI) in Excel
Pivot Tables using Business Intelligence (BI)
Power Pivot
Creating Mega Formulas
Macro (Into Level)
And Much More …
Data analytics has become an integral part of every organization, and the skills required to apply advanced techniques to provide efficient and effective recommendations for decision-making have become a must. Artificial intelligence, business intelligence, and data analytics can be applied through a tool that is accessible to every professional, Microsoft Excel.
Practice with a live case how to apply technology and the latest Excel features for effective decision-making.
Achieving tasks on hand by saving 95% of the time it takes using other methods.
Understanding the concept through a real case study.
Master the use of Artificial Intelligence (AI), Business Intelligence (BI), and Data Analytics.
Leverage technology to work for you.
Gain a competitive advantage by learning the new trends in the market.
Build dashboards and advance analytical reports, detect anomalies, and strategize.