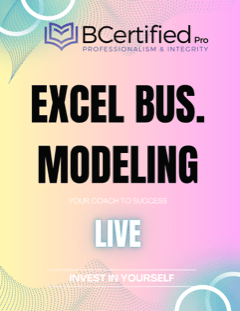 Excel Business Modeling – March 22 & 23, 2024 Live Virtual
$525.00
-
Designed for every professional who is interested in advancing their career, gaining new skills, and being able to finish the task on hand in less time and in a more professional manner.
10 Hours of Live training with a field expert
Practicing with a real case study.
Certificate of completion – 10 CPEs
Market Study Modeling
Presentation Skills
Analytical Skills
Shortcuts
Formula Building
Data Manipulation
Geography & Maps
Charts & Design Skills
And Much More …
Excel allows users to organize and analyze large amounts of data, create visualizations and reports, and communicate insights effectively. Whether you are a manager, analyst, entry-level employee, or executive, Excel can help you make informed decisions based on accurate and up-to-date information.
Achieving tasks on hand by saving 82% of the time it takes using other methods.
Create a presentable report that will shed light on valuable outcomes.
Break down large sets of data into summarized reports
Manage and interpret complex sets of data.
Gain a competitive advantage by learning the new trends in the market.