CFA Chartered Financial Analyst
April 14, 2023
2023-05-15 20:11
CFA Chartered Financial Analyst
CFA Chartered Financial Analyst
Self-Study Packages
CFA Self-Study packages are in partnership with Wiley Efficient Learning. To learn more about Wiley scroll down to the end of this page.
| Wiley Self-Study Packages | Basic | Gold | Platinum |
| --- | --- | --- | --- |
| Wiley Mobile App – Study on the Go | ✓ | ✓ | ✓ |
| Mock Exams | ✓ | ✓ | ✓ |
| Formula Sheets | ✓ | ✓ | ✓ |
| Dashboard & Performance Metrics | ✓ | ✓ | ✓ |
| Exam-Style Practice Questions | ✓ | ✓ | ✓ |
| Course Outline | ✓ | ✓ | ✓ |
| Print or eBook Study Guide Covering Every LOS | ✓ | ✓ | ✓ |
| 30-45 Minute Bite-Sized Lessons | ✓ | ✓ | ✓ |
| Exam Planner & Personalized Study Schedule | ✓ | ✓ | ✓ |
| Downloadable, Print-Friendly Flashcards | | ✓ | ✓ |
| Video Lectures by expert instructors | | ✓ | ✓ |
| Downloadable, Print-Friendly Flashcards | | ✓ | ✓ |
| Live Online Virtual Classes | | ✓ | ✓ |
| Professional Online Mentoring | | | ✓ |
| 11th Hour Review Study Guide (Print or eBook) | | | ✓ |
| 11th Hour Final Review Mock Exam | | | ✓ |
Note: Level I & II also include intensive bootcamp reviews.
Scroll down to choose your Level(s), Package type, and any other service you aim for by adding it to the cart.
Wiley's focus is on bridging the higher education gap by delivering content and tools in the formats you need, with a focus on making learning both efficient and impactful. And we can't wait to work with you to do our part to change the world, one learner at a time.
At Wiley, partnerships are at the heart of our success. We partner closely with top organizations to publish their official curricula or prep guides, such as GMAC®, ACT ®, the CFA Institute ®, AICPA ®, CMT ®, and CIMA ®. We also partner with universities, societies, and training providers such as B Certified Pro to prepare individuals for their professional careers worldwide.
To learn more about Wiley, visit: https://www.efficientlearning.com/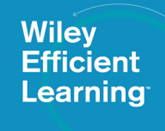 CFA Chartered Financial Analyst

The Chartered Financial Analyst (CFA) certification is a globally recognized professional designation for finance and investment professionals. It is intended for individuals who are interested in enhancing their knowledge and expertise in investment analysis, portfolio management, and other related areas. The CFA certification is highly regarded in industries such as investment banking, asset management, and equity research. It is recognized in more than 170 countries worldwide and is a mark of excellence and professionalism. Obtaining the CFA certification can enhance one's career opportunities, increase earning potential, and provide a global network of finance professionals. It also develops valuable skills such as critical thinking, problem-solving, and ethical decision-making.
Corporate Training
Every business is unique and so is our approach. Our programs are tailored to the corporate needs, industry, structure, and desired outcome.
We served small to large fortune 500 companies globally within different industries.
We provide a bundle of professional services tailored to corporate needs from global certifications such as the CMA and CFA, industry-specific workshops, and other professional services. Request a quote by either selecting from our basket of products or for any specific need required. You state your need, we deliver value.
Private Coaching
We understand the challenges that are faced when preparing for an exam or mastering a concept. Private coaching enables you to have a dedicated instructor who can provide individualized attention, tailored to your learning style, pace, and needs.
Private coaching could be one-on-one or within a group of 2 or 3 candidates if they know each other and want to split the cost. We have trainers from different continents and countries that are experts in their field. Most of our private coaching is done virtually in a way that fits your schedule, but in-person training can be arranged in countries and/or cities where we have coaches.
Fill in the information below after pressing "Request a Quote" and we will get back to you as soon as possible.
Exam Info
About the CFA Institute
The CFA Institute is a global association of investment professionals that aims to promote ethical and professional standards in the investment industry. It offers the prestigious Chartered Financial Analyst (CFA) credential, which is widely regarded as the gold standard in the investment profession. The CFA Institute also provides education, advocacy, and research to advance the field of investment management. With more than 170,000 members in over 165 countries, the CFA Institute is a leading authority in the investment industry and plays a crucial role in shaping the future of finance.
For more information about the CFA® certification program, please visit https://www.cfainstitute.org/.
Steps to Become a Charterholder
Pass the CFA Exams – all 3 Levels.
Have a bachelor's degree from a university or colleague.
Achieve qualified work experience that accumulates 4,000 hours of work experience and/or higher education over a minimum of 3 consecutive years.
Submit reference letters from 2-3 professionals.
Fill out the CFA application to become a regular member.
For more info, visit: https://www.cfainstitute.org/en/programs/cfa/charter
CFA Exam Breakdown
Exam Breakdown
Exam Duration
Level I – 4 Hours
Level II – 4 Hours
Level III – 4 Hours
Format
Computer Based: Level I – 180 MCQs
Computer Based: Level II – 22 Sets of Vignettes with 88 MCQs
Computer Based: Level III – Mix of Essay & MCQ Vignettes
Testing Windows
Level I – May & August & November
Level II – May & August & November
Level III – February & August
Pass/Fail
No detailed scoring, it is a Fail/Pass decision. Mostly candidates should score more than 70% on average to pass.
CFA Program Breakdown
The CFA® program is composed of three levels covering various topics, please check the tab "Program Breakdown" for more details.
The CFA (Chartered Financial Analyst) charter is a globally recognized professional designation awarded by the CFA Institute to finance and investment professionals who have demonstrated expertise in investment analysis and portfolio management.
To become a CFA charterholder, one must pass three levels of exams, have a minimum of four years of qualified work experience in investment decision-making, and adhere to the CFA Institute's Code of Ethics and Standards of Professional Conduct.
The updated CFA program covers a broad range of topics, including ethics and professional standards, quantitative methods, economics, financial reporting and analysis, corporate finance, equity investments, fixed income, derivatives, alternative investments, portfolio management, and wealth planning.
The updated CFA program can be completed in a minimum of 18 months and a maximum of 4 years. This will depend on the individual's study schedule, their readiness for each level of the exam, and their work experience.
The benefits of earning the CFA charter include enhanced career opportunities, increased earning potential, a global network of finance professionals, and a mark of excellence and professionalism recognized worldwide.
The updated estimated total cost of becoming a CFA charterholder varies depending on the location and the cost of living, exam fees, study materials, and other expenses such as travel and accommodation. The estimated total cost ranges from $4,000 to $6,000 USD.
The CFA program is widely recognized as a rigorous and challenging program. The pass rate for each level of the exam is typically below 50%, and it requires significant dedication, study time, and preparation. However, candidates who put in the effort and stay committed to the program can achieve success and obtain the CFA charter.
The CFA Institute does not disclose the minimum passing score for the CFA exams. Instead, it uses a process called "standard setting" to determine the minimum passing score for each exam level.
It typically takes 4-6 weeks to receive the CFA charter after passing all three levels of the exam, assuming that all other requirements, such as work experience, have been completed and approved.
Yes, the CFA program is recognized worldwide as a mark of excellence and professionalism in the finance industry. The charter is highly respected by employers, regulators, and investors around the world.
Yes, you can retake a CFA exam if you fail. However, you will need to pay the exam fee again and wait until the next exam offering to retake the exam.
The CFA Institute Code of Ethics and Standards of Professional Conduct is a set of ethical and professional guidelines that CFA charterholders must adhere to. The code covers topics such as integrity, objectivity, professional competence, and client relationships.
No, you cannot use the CFA designation until you have passed all three levels of the exam and met all other requirements for the charter.