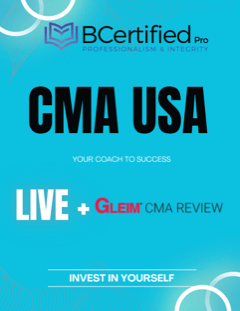 CMA – Full Package – Combo Part 1 & 2
$1,910.00
-
Full Packages (Live Training + Material + Practice Databanks) – Combo Parts 1 AND 2.
Live Training & Strategies with expert coaches
Summarized Material + Formula Guide
$100 Cash Back once you pass your First exam
IMA Discounts for NEW IMA Members
MCQ & Essays live practice with tips
Gleim E-Books
Gleim MCQ databank
Gleim Essay Databank
Re-attend for Free if you do not pass or had an emergency throughout the sessions
Thank you for your interest in the B Certified Pro CMA Success program. It's our privilege to guide you to pass the CMA on the first attempt. B Certified Pro LCC is the only IMA-approved course provider in the USA and all of the Americas, as well as globally.
Our CMA Success program is thought by Fortune 500 companies, as well as by all levels of professionals from entry level to executive levels, in addition to university students and those who have failed the exam studying on their own or with others.
Note: you will receive an email once you register (part of your receipt sent directly by the system) to choose your training term & timing. Make sure you fill both in to get access to the live sessions.