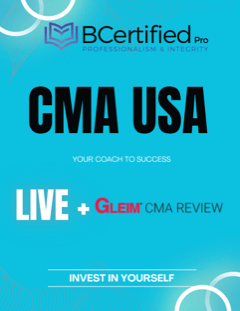 CMA – Europe CMA Part 2 – Guided Success Sessions
$250.00
-
Agenda:
Session 1: CMA Part 1 – October 4, 2023, Wednesday 19:00 to 21:00 CET
Session 2: CMA Part 2 – October 10, 2023, Tuesday 19:00 to 21:00 CET
What will you learn:
Comprehensive strategies for CMA exam retakes.
Core concept review, problem-solving, and case study techniques.
In-depth understanding of exam structure and format.
Targeted improvement strategies based on individual weaknesses.
Effective time management skills for the exam.
Managing stress and mastering the exam process.
Proficiency in complex calculations, financial analysis, and ethical considerations.
Familiarity with CMA exam through mock tests and practice questions.
Confidence, knowledge, and skills for CMA retake success.
Thank you for your interest in the B Certified Pro CMA Success program. It's our privilege to guide you to pass the CMA on the first attempt. B Certified Pro LCC is the only IMA-approved course provider in the USA and all of the Americas, as well as globally.
Our CMA Success program is thought by Fortune 500 companies, as well as by all levels of professionals from entry level to executive levels, in addition to university students and those who have failed the exam studying on their own or with others.
Note: you will receive an email once you register (part of your receipt sent directly by the system) to choose your training term & timing. Make sure you fill both in to get access to the live sessions.