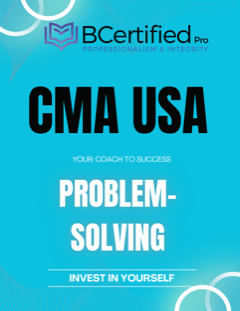 CMA – Success Packages – Free Problem Solving Part 2
-
The secret sauce to passing the CMA exam on your first attempt, score high and finish your exam in less time!
Strategies to answer MCQs and Essays in less time & score high.
Practice with candidates' MCQs and Essays and guide them through each exam question.
Go through the right way to approach MCQ and Essay questions using retired actual exam questions as well as simulated tricky questions.
What to do and not to do on the exam while going through each question.
And much more…
Thank you for your interest in the B Certified Pro CMA Success program. It's our privilege to guide you to pass the CMA on the first attempt. B Certified Pro LCC is the only IMA-approved course provider in the USA and all of the Americas, as well as globally.
Our CMA Success program is thought by Fortune 500 companies, as well as by all levels of professionals from entry level to executive levels, in addition to university students and those who have failed the exam studying on their own or with others.