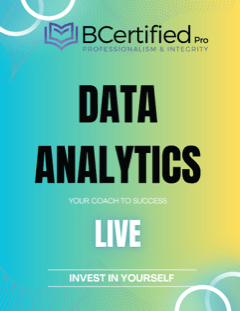 Data Analytics Using Excel – Bundle with Excel Business Modeling
$1,200.00
-
Designed for every professional who is interested in advancing their career, gaining new skills, and being able to finish the task on hand in less time and in a more professional manner.
20 Hours of Live training with a field expert
Practicing with real case studies.
Certificate of completion – 20 CPEs
Data Analytics | Power Query |Dynamic Arrays
Artificial Intelligence (AI) in Excel
Pivot Tables using BI | Power Pivot
Creating Mega Formulas |Macro (Into Level)
Presentation Skills | Analytical Skills
Shortcuts | Formula Building | Data Manipulation
Geography & Maps | Charts & Design Skills
And Much More …
Data analytics has become an integral part of every organization, and the skills required to apply advanced techniques to provide efficient and effective recommendations for decision-making have become a must. Artificial intelligence, business intelligence, and data analytics can be applied through a tool that is accessible to every professional, Microsoft Excel.
Excel allows users to organize and analyze large amounts of data, create visualizations and reports, and communicate insights effectively. Whether you are a manager, analyst, entry-level employee, or executive, Excel can help you make informed decisions based on accurate and up-to-date information.