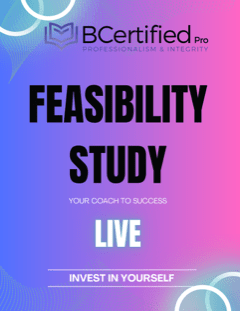 Feasibility Study & Financial Modeling – September 23 Live Virtual
$975.00
-
A feasibility study and financial modeling workshop is designed for various individuals and groups who are involved in business planning and decision-making.
13 Hours of Live training with field experts
Practicing with real case studies.
Certificate of completion – 13 CPEs
Market Study Modeling
Presentation Skills and Analytical Skills
Financial Statement Building using Excel (P&L, B/S, FCF)
Outcome Examination using Excel (NPV, IRR, PI, PP, and DPP)
Feasibility Study Appraisal & Analysis (Ratio, Scenario, Sensitivity, Industry)
Data Manipulation
Report Presentation for Recommended Strategic Decisions
Financial Formulas using Excel Financial Modeling
And Much More …
The objective of learning about feasibility studies and using Excel financial modeling is to gain a comprehensive understanding of the various factors that contribute to the success of a business venture or project. A feasibility study involves analyzing the potential risks and benefits of a project, as well as the financial viability of the endeavor. Professionals can determine whether a project is worth pursuing, estimate its potential profitability, and identify potential obstacles that may arise. You will:
Master the art of building successful feasibility.
Gain valuable skills in using Excel financial modeling to build a dynamic model.
Present a successful study supporting an accept/reject decision.
Lead with confidence after understanding the hidden factors of the study.
Manipulate data to build multiple scenarios.
Gain a competitive advantage by learning the new trends in the market.